Benchmarking - The management tool every consultant needs
Published:
January 9, 2023
If it cannot be measured, it cannot be managed – Well, do you know that golden rule of management?
That's why you need to set out specific numbers for your business activities as a way to identify if your team is doing well or not. However, those "numbers" is really hard to define! For example, how many products should be manufactured next quarter? What price can we charge for a new version? And, does your company need more or fewer employees? … So, to arrive at an effective answer, stay away from hunch decisions based on your own experience! Let those tasks be done by professional consultants.
In general, consultants will perform a set of techniques to find out the most optimal practices for your company. And of course, it must be data-driven and easily measurable. Undeniably, one of the most used techniques is benchmarking - a management tool. With this tool, consultants will compare your business performance to others like your competitors, best-in-class companies, etc., and then, customize their successful methods to apply to your company.
Here in this Consultport Blog, we would like to give you a full explanation of benchmarking, including what it is, its significant benefits. And the most important thing, how to implement it as an experienced consultant.
What is benchmarking management tool?
In short, benchmarking gives every consultant the power of seeing a broader view of the business operations, clarifying its pros and cons. Finally, they can come up with solutions that actually raise your value in the market.
Certainly, if consultants are considered superheroes in their way to save troubled companies, benchmarking management tools are like the hammer of Thor or the suit of Iron Man.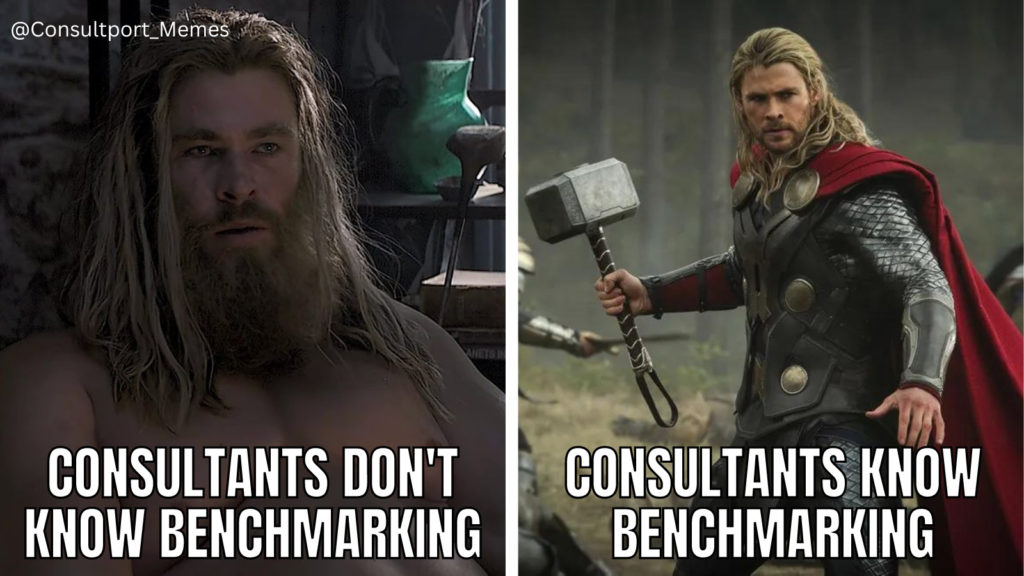 Extraordinary assistant of every consultant
According to the book
Benchmarking for Competitive Advantage (1994)
, benchmarking is "the process of systematically identifying, analyzing, and adapting industries' best practices to improve an organization's performance."
Now, let us break it down for you.
Unquestionably, benchmarking is a popular technique in the consulting world. Because it can be applied to every organization of all sizes and industries. Also, benchmarking focuses on the comparison between your current work and others with certain similar characteristics. And, the purpose is to show where a firm excels or lags behind. Alos, it assesses the strengths and weaknesses of an organization and determining its capability. So, whether the company needs to resolve existing issues or wants to upgrade its product/service quality, benchmarking can offer the best solution to achieve your goal.
After all, benchmarking is not simply copying a good practice from one place to another. Because, things work for you but can be unsuitable for me. Hence, benchmarking will add customization and innovation to suit your own company's situation.
Secret behind benchmarking
I have to say… Only those who are humble enough to admit this can make the most out of benchmarking: There is someone else who is doing the same things better than them. In this way, they learn from the pioneers, and the leaders. So, them can upgrade themself, and ultimately, surpass all others to become the winner. And, it is really crucial to choose a proper role model to learn from. Therefore, it is natural but prime competitors are the reference points for benchmarking. However, to what extent are your competitors willing to share information about their best practices? And, whoever wants to share their secret formulas to success, right?
So, our advice is you could try benchmarking with outstanding companies/world-class companies in the industry, who may be more willing to share information about their best practices. And, here is a
list of companies that stand out because of their best practices
:
Microsoft - creativity and innovation, globalization, and entrepreneurial spirit;

3M – new product development, entrepreneurship;

Motorola – six sigma quality culture;

Mc Kinsey – high-quality strategic consultancy services;

Compaq and Dell computers – marketing and distribution system;

Johnson and Johnson – ethics
In fact, benchmarking could be internal to the organization. In some cases, your company can be benchmarked with a company from a different industry. As long as that one has overcome successfully the same problems as yours!
KEY TAKEAWAYS.
consultants
today are no stranger to benchmarking management tool. Obviously, this technique helps them identify the best practices for any businesses and organizations. And, by comparison and analytics, management consultants can design a customized roadmap that can boost your company's performance.
Without a doubt, benchmarking is widely used in consulting firms. Because it brings about benefits such as saving costs, enhancing the business's competitive capacity, etc. In general, there are 9 types of benchmarking: Performance benchmarking, process benchmarking, Strategic benchmarking, Internal benchmarking, Competitive benchmarking, Functional benchmarking, Financial benchmarking, and Product benchmarking.
In brief, you can apply the benchmarking wheel to carry out any benchmarking project, including 5 steps (Plan, Search, Observe, Analyze, and Adapt).
There are
various types of benchmarking
, as each type is used for different purposes.
First, Performance benchmarking:
Generally, the purpose of this benchmarking management tool is to determine how good one's own organization is. You know, business owners usually believe their companies are running very well, but it is just a feeling. Here, performance benchmarking allows the initiator firm to assess its competitive position by comparing products and services with those of target firms.
Sencond, Best practice benchmarking or process benchmarking:
This is to compare the methods and practices for performing the most efficient processes. And, you will have guidance on how to erase the performance gap between you and the benchmark company.
Third, Strategic benchmarking:
In short, consultants will compare the long-term, significant decisions and actions undertaken by other organizations to achieve their objectives.
Fourth, Internal benchmarking:
This is a comparison between teams or departments of the same company.
Fifth, Competitive benchmarking (External benchmarking):
This benchmarking will make a direct comparison of one's own performance against the best competitors and restricts the search for best practices to competitors.
Sixth, Functional benchmarking:
This endeavors to determine best practices regardless of industry. So, consultants will compare functions against non-competitive organizations within the same sector or technological area such as human resources, finance and accounting, communication technology, and so on.
Seventh, Financial benchmarking:
By performing financial analysis, this benchmarking will help you strengthen your financial state and use your money smarter.
Eighth, Generic benchmarking:
Your company processes can be benchmarked against the best practices anywhere in any type of organization. Therefore, that means an eCommerce store can even gain some useful practices from a hospital.
Ninth, Product benchmarking:
The aim of this benchmarking is to design new promising products or upgrades to current ones.
A create way to use benchmarking
In fact, you can combine two or more types of benchmarking to achieve your goal. For instance, Xerox Corporation, which sells print and digital document products and services, routinely buys copiers made by other firms and takes them apart to see how they work. In this way,
Xerox can stay abreast of its competitor's improvements and changes.
You see? This case uses both external and product benchmarking.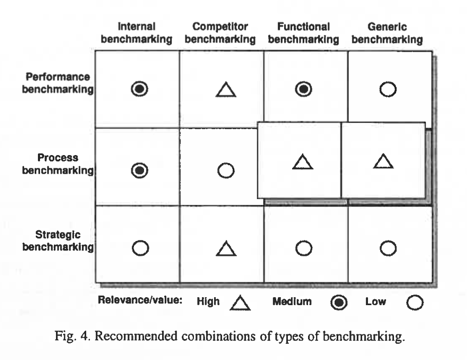 First, benchmarking management tool minimizes costs and saves time to improve performance for your company. Obviously, you just need to adopt the best practices that other companies have already proved it has a positive result. Rather than re-invent and validate them in-house. All you need to do is identify other companies which are role models for learning.
Also, it aids in the implementation of upcoming changes and cutting-edge technological advancements brought about by industry shifts. However, you must acquire accurate and trustworthy. So, you can have information about these businesses' standards and best practices from them.
By using benchmarking, you can identify the current competitive gaps and comprehend the strategic and tactical reasons for them. Therefore, you can close the gap between one's own concern and other competing firms.
Do you know? The process of developing strategic goals and objectives for the organization is kicked off by benchmarking. And it uses external models to help improve the organization's processes and activities. Hence, in order to attain higher standards in crucial areas, it is essential to constantly carry out reengineering, enhancing, or inventing new procedures and practices.
Moreover, organizations can overcome their inertia and shift their perspective on the brand-new approaches and models used elsewhere by comparing them with their rivals. As a result, the identified improvements can be incorporated into an effective action plan.
Besides, benchmarking simultaneously facilitates organizational learning and motivates employees. And this is the way to implement the benchmarking process effectively. Finally, by adapting processes and best practices, it impedes progress in important organizational areas.
Benchmarking verified globally
As benchmarking management tool brings so many benefits to businesses, it attracts the growing attention of professional consultants worldwide. And, In 2008, The Global Benchmarking Network—a network of benchmarking centers representing 22 countries —
ordered a comprehensive survey on benchmarking
. From over 40 nations, over 450 organizations submitted responses, with the result that 68% of those use informal benchmarking. A
"Benchmarking Forum"
has even been set up by the American Society for Training and Development (ASTD) to find and learn about member organizations' so-called best practices so that other organizations can use them.
How to apply the benchmarking?
In point of fact, there isn't a benchmarking method that everyone agrees on. Robert Camp, who published the first book on benchmarking in 1989, proposed the most well-known methodology, t
he 12-stage methodology
: First, select subject ahead; Second, define the process; Third, identify potential partners; Forth, identify data sources; Fifth, collect data and select partners; Sixth, determine the gap; Seventh, establish process differences; Eighth, target future performance; Ninth, communicate; Tenth, adjust goal; Eleventh, implement; and Twelfth, review/recalibrate.
However, in this blog, we will wrap it into 5 basic steps, which are so-called the
benchmarking wheel
.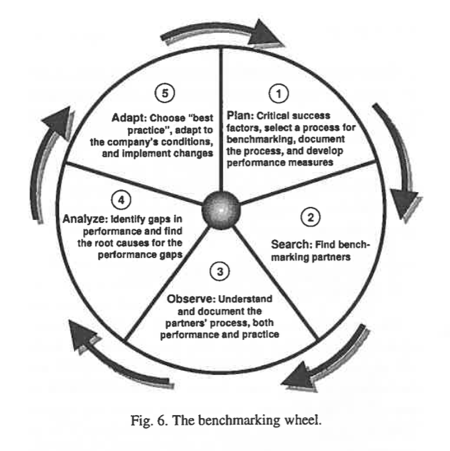 Step 1: Plan.
First, you must choose the benchmarked process, form a benchmark team, comprehend and record the benchmarked process, and determine the performance metrics. Then, you should hire verified consultants from trusted channels like Consultport to achieve the best result.
Step 2: Search.
Focus on these four activities: Compile a list of criteria an ideal benchmarking partner should satisfy, Seek potential benchmarking partners, Compare candidates and choose one or more. In addition, contact selected partners, and invite them to join your benchmarking process.
Step 3: Observe.
You need to determine the information requirements and information sources, choose a data collection method or tool and carry out data collection and debriefing.
Step 4: Analyze.
Your job here includes: Sorting the collected data and information, doing quality control, Normalizing data, Identifying gaps in the performance levels, figure out what caused the gaps.
Step 5: Adapt.
In the last step, the checklist consists of four tasks: Set goals for improvement, create an implementation plan, implement plan, keep track of progress, and write the final benchmarking report.
Conclusion
In conclusion, benchmarking management tool is used as a popular technique that almost all consultants are using these days. Therefore, you need to know that the core of benchmarking is not about the differences between the compared subjects, but the reasons behind them. So, consultants, carrying out benchmarking projects need to tailor and incorporate these best practices from other companies into their own operations, rather than simply copying them. Aa a result, by applying benchmarking to the organization's operations, your business can gain continuous improvements, and stand out in the market.
There are over 10,000 consultants in the talent pool at Consultport who master benchmarking management tools. And, if you want to discuss more about this wonderful method, don't hesitate to drop us a message.
Share This Story, Choose Your Platform!