Check it out in less than a minute.
Trusted by companies like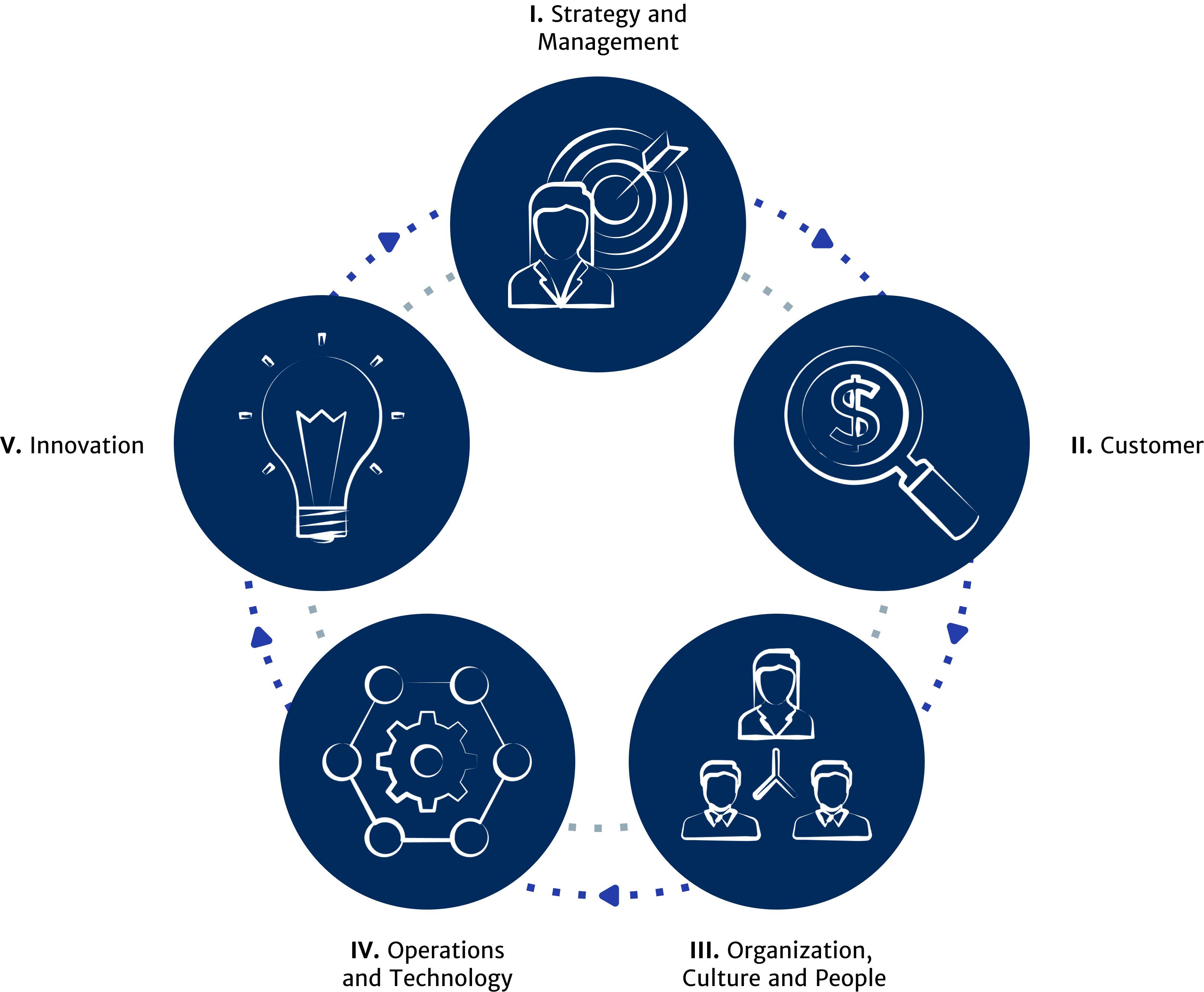 Measure digital readiness across all the essential parts of your business.
The world is now powered by big data and advanced technologies. Moreover, digital is disrupting everything from business models to entire industries. It is impacting organizations from top to bottom. To unlock your digital agenda, you need a clear vision of where you're starting from. You need to understand digital across all the component parts of your business and assess how they add up. This gives you the essential context for making decisions about all your digital initiatives. It will help you to prioritize and develop a common digital vision for your organization.
Industry sectors benchmarked
Compare yourself with digital leaders in your industry.
Now, you can analyze your digital readiness, and compare it with the digital leaders and competitors in your industry (anonymously). You will receive an objective evaluation of your current digital maturity. Moreover, you can identify the gap between where you are and where you should be.
Receive tailored, actionable recommendations and insights.
You can get your own high-quality Digital Readiness Report with personalized recommendations and compelling insights to successfully implement your company's digitalization journey. You will also receive examples of the best practices of digital leaders.

DIGITAL READINESS ASSESSMENT
What is a Digital Readiness Assessment?
The age of digital-first businesses has come. And, to thrive as a digital-first business, you need to understand your current digital maturity level. What is possible, and how to define your aspirations.
A company's digital maturity level describes its ability to engage in and thrive within this digital-first economy; those with a higher maturity level continually outperform those with a lower maturity level on several financial measurements.
As a company seeking to transition into this new digital-first reality, a Digital Maturity Assessment can help provide one simple yet crucial perspective. It gives you bearings in a digital age. (Other similar terms describing the same process include Digital Readiness Assessment, Digital Readiness Check, or Digital Maturity Framework. We use these terms interchangeably.)
As you embark on your digital transformation journey, you will initially face two fundamental questions:
Where does your business currently stand in terms of formulating a digital agenda and undertaking digital transformation?

What direction do you take next?
Digital transformation is a core requirement in a digital age where technology continues to reshape work, with businesses across all industries utilizing cutting-edge tools and third-party services to streamline and accelerate daily processes.
When implemented well, these processes work elegantly. But, not all companies achieve this elegant transformation. Less digitally mature companies struggle to match the performance, efficiency, and productivity gains of more tech-savvy rivals.
Yet there's hope.
If you find yourself on the wrong side of the digital maturity divide, you are not alone. Most companies understand the need for digitization, yet they are unable to keep pace with advancements. Although these findings may appear comforting, the stark reality is that you will need to undertake digital transformation sooner rather than later to avoid getting pushed out by fast-moving competitors.
Your quest for digital transformation begins with a Digital Maturity Assessment. It is an ideal solution to identify your state of digitization and recognize the next steps you must take to become a truly formidable force in your market.
What is the Digital Readiness Assessment App (DRA)?
Consultport's Digital Readiness Assessment App provides a comprehensive digital assessment framework of your organization's capacity and capabilities to unleash the full potential of digital opportunities.
Through powerful diagnostic features, the Digital Maturity Assessment app allows companies to compare digital capabilities and performance with peers, industry averages, and best-in-class digital leaders.
For enhanced accuracy, the app utilizes survey-based diagnostics that leverage expert-developed questions that assess current capabilities while benchmarking answers against peer results and best practices.
Moreover, the insights that the app generates play an integral role in assisting leaders in designing and executing a prioritized roadmap of high-impact digital transformation initiatives.
Offering a data-driven approach to decision-making, the DRA App empowers CXOs and functional leaders to rally around a shared strategic vision spanning key digital dimensions while providing guidelines for a clear path to digital transformation success.
As a mobile-first Digital Readiness Check tool, it is easily accessible and can help you start generating insights within minutes and even on the go.
What should you expect from the Digital Readiness Assessment?
The Digital Maturity Assessment provides three core benefits:
Understand your current level of digitization across five key business dimensions

Compare your digital maturity through a capability score, with those of industry peers and digital leaders.

Explore your company's full potential through digitization, and receive actionable recommendations to realize it.
What is the Digital Readiness Assessment based on?
Consultport's Digital Readiness Assessment utilizes three core concepts:
A Validated Methodology:
Consultport's Digital Readiness Assessment relies on a tried and tested methodology developed in partnership with leading digital experts. The process integrates a validated digital maturity framework that has been tested and verified with pilot companies.
Extensive and up-to-date data:
Consultport's Digital Readiness Assessment leverages comprehensive data collected through the analysis of over 2,000 companies across sixteen industries and 41 countries. Utilizing several data basis points, in-depth surveys, and insights from digital experts, we built a comprehensive digital maturity framework that accurately reflects real-world market dynamics. We also update our data continuously, with 80% of the data points generated within the last 12 months.
Weighted Metrics:
For industries and company sizes where we could not collect sufficient data, we created weighted information clusters to provide reliable comparison groupings at the same industry level and company size. We achieved this by combining data from similar industries and company sizes to generate enough observations to create benchmarking groups.

What does a digitally mature company look like?
Digitally mature companies look beyond just investing in quality digital tools. Moreover, they relentlessly focus on deriving new business value from digitization through continual optimization of operations. To achieve this, they do not just implement edge solutions. Instead, they use a Digital Maturity Framework to integrate digitization into core operations and, in the process, reshape the entire organization to maximize productivity, performance, and, ultimately, generate industry-leading results.
After completing a Digital Maturity Assessment and successfully implementing a digital transformation strategy to become digitally mature, companies say goodbye to busy work and say hello to real productivity. Employees thrive in a digitally enhanced work environment, and quality training, practical onboarding processes, and user-friendly tools combine to bring the best out of teams.
When it comes to data, digitally mature companies use a Digital Readiness Assessment to gain enhanced data collection capabilities. These range from customer behavior to real-time inventory levels and dynamic average order values. With this data, such companies make smarter, data-driven decisions to deliver higher service standards, reduce or eliminate wasteful processes and practices, and achieve more substantial ROI.
In short, digitally mature companies can become Digital Leaders and take on the following traits:
A Clear Strategy And Empowered Management
Digital Leaders use a Digital Maturity Assessment to create a clear vision that enhances customer value in a digital-first world. Moreover, they have comprehensive digital strategies that encompass the whole organization, including internal and external ecosystems. Digital Leaders also have a clearly defined digital transformation agenda which they roadmap and use to get ahead of current and future rivals. These companies have a Digital Champion, a senior manager with in-depth digital expertise, and decision-making power to drive change.
Customer-Centricity At The Core Of All Activities
Digital Leaders embrace customer-centricity by putting customers at the center of all business activities and decisions. Using a digital maturity framework, they operationalize end-to-end customer data strategies to inform and support daily operations. Digital Leaders also embrace omnichannel selling and sector-specific digital marketing to provide a seamless discovery and purchasing experience to buyers. They also have tools like chatbots that offer round-the-clock customer service
A Supportive Organizational Environment
Digital Leaders favor flat hierarchies that promote fast decision-making and cultivate a digital working culture that results in an increasingly positive and skilled workforce open to digital transformation. Digital Leaders use a digital maturity framework to ensure employees have access to digital learning and change programs that enhance their knowledge of digitization and identify and address resistance areas. Through a supportive environment, such companies gain an improved understanding of how to attract and retain high-quality digital talent.
Most Processes Are Automated
Digital Leaders leverage a Digital Readiness Check to invest heavily in digitization and automation of core processes, leveraging robotics, and machine learning tools to enhance supply chain efficiency. They also gain cutting-edge IT infrastructure, capable of supporting aggressive business objectives. To protect this mission-critical infrastructure, Digital Leaders integrate sophisticated cybersecurity capabilities that keep pace with other digitization efforts across the organization.
Continuous Innovation Culture
Digital Leaders use a Digital Maturity Assessment to foster a pervasive startup mentality that embraces activities like innovation sprints, customer-centric product research, agile prototype development, and user testing via minimum viable products (MVP). They also recognize and integrate the value that external partners can bring to the innovation process and, through well-defined processes, systematically ideate, trial, and launch innovative products.
What Makes Consultport's Digital Readiness Assessment Unique?
While other digital maturity models exist, Consultport's Digital Readiness Assessment approach stands out in the following ways:
As a mobile-first assessment tool, companies can instantly start their assessment, track progress, run comparisons against benchmarks, and visualize results.

It offers benchmarking against over 2,000 companies, 17 industries, and 41 countries, with data continuously refreshed to offer current comparisons.

It covers five core business dimensions.

Inbuilt scoring provides both peer benchmarking as well as the measurement of progress over time.

Generated insights inform the design of a unique and achievable digitization vision with an integrated digital strategy roadmap and a strong foundation for launching digital transformation initiatives.

Verified use by top-level executives and digital experts across multiple industries and countries.
Can Consultport Help My Business To Become A Digital Leader?
Yes! The Consultport platform has 3,000+ management consultants and digital experts for hire. They are all exceptionally specialized in helping companies at every step of their digital transformation journeys.
For each of the different assessment dimensions and digital maturity stages identified in the Digital Readiness Assessment, you have access to the right expert for your needs, from building the right culture to building actual digital products. Discover our digital transformation consultants by clicking here.
Ready to Get Started?