4 Types of Customer Service Consultants—Explained
Published:
January 22, 2023
A great product will result in high sales, but great customer service will result in a positive brand image, repeat purchases, and customer loyalty.
Back in the day, customers didn't have much of a choice. They usually got their milk, bread, soap, utensils, and all basic products from one dealer. For high-involvement purchases like cars or electronic equipment, the options were limited as well.
Fast forward to the present day, product choices are the largest they've ever been. Just type the name of any product on Google and see how many businesses sell it. To make the competition stiffer, e-commerce has enabled customers to import products from overseas as well. 
The bottom line is, products are in abundance. So, in order to differentiate yourself as a business, you must focus on exceptional customer service. Need evidence? Well, recently,
HubSpot
published some mind-blowing customer service stats. In America, a whopping 90% of respondents said that they keep the level of customer service in mind before purchasing from a business. And 93% of customers are likely to make a repeat purchase if a company offers exceptional customer service. 
One thing is certain—customer service can in no way be neglected. Now, in order to make sure that your customer service is top notch and better than rivals, you may need expert help. This is when you can seek assistance from customer service consultants. In this article, we will discuss the 4 types of customer service consultants that you should be aware of. In the end, we'll explain how to find these consultants easily.
4 Types of Customer Service Consultants
Customer service consulting is a broad term that contains many specific and related areas. Today, we'll remove the vagueness from this term and bring more clarity to it. So, let's discuss each specialization in customer service consulting one by one.
KEY TAKEAWAYS
The four types of customer service consultants that we've covered in this article are Customer Service Automation consultants, Customer Service Strategists, Customer Service Software consultants, and Service Operations Specialists.
Customer Service Automation consultants can automate the customer inquiry process. This will enable businesses to quickly respond to all queries without hiring extra staff.
A Customer Service Strategist can massively improve your customer service level and ensure that it's in line with industry standards.
A Customer Service Software consultant can help you integrate CRM technology into your business and use AI to build relationships with customers.
Service Operations Specialists can streamline operations in your business that are related to customer service.
1. Customer Service Automation consultants
Imagine this: Your company gets 1000 messages from customers every day and you only have 5 representatives to answer them. How can such a small number of employees handle hundreds of customers at a time? The ugly consequence of such a process will be burnout, inefficiency, frustrated customers, and lost reputation. 
This is when Customer Service Automation consultants come into play. These consultants can strategically automate the customer inquiry process and make your job a heck of a lot easier. This means that you won't have to employ 100 representatives to handle customer queries and complaints. Intelligently created automation processes will take care of that.
Furthermore, customer service automation consultants can forecast the customers' needs beforehand and create automation processes accordingly. From chatbots to automated customer hotlines, they can design it all. For example, in case a customer wants to return a product that is outside the return period, a chatbot can handle the conversation in the following way: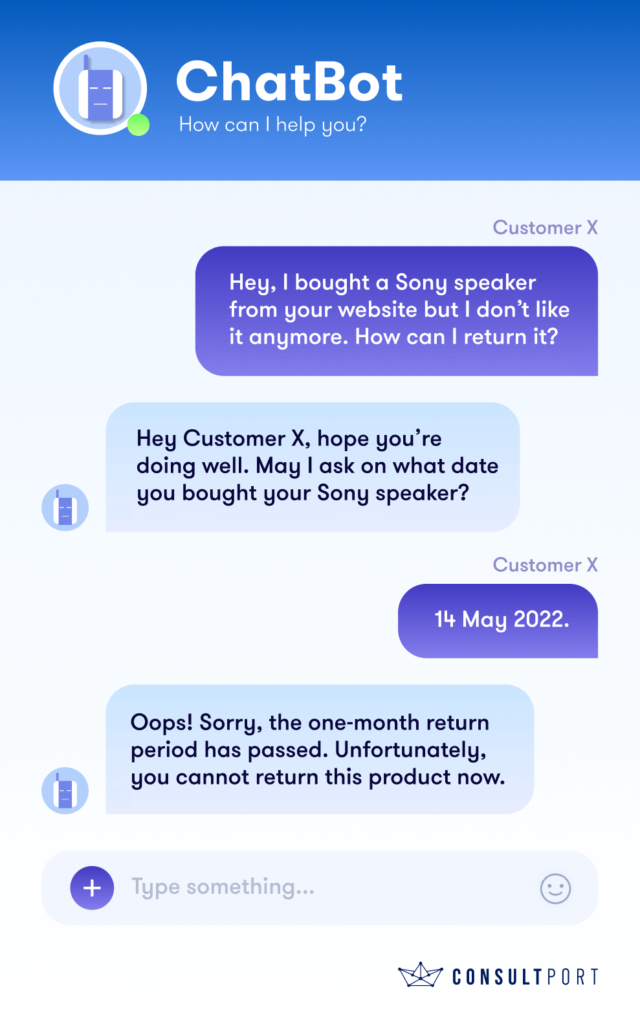 You see, all this, and a lot more, can be automated. You can save thousands of dollars by not hiring extra staff for customer enquires. Also you can respond to customers instantly. Moreover,  you'll be empowered to handle thousands of customers without even lifting a finger.
2. Customer Service Strategists
According to a 2020
survey
, 36% of consumers share their customer service experience with others—both good and bad experiences. What's more, about one-third of these surveyees share it on Facebook and Instagram. This means that their social contacts would also read their reviews. Bain & Company also released a report in which they mentioned that a customer is
four times
more likely to go to a competitor if they have a problem with a business's customer service. 
This is why you need a Customer Service Strategist. These professionals can ensure that you're not unknowingly losing customers because of mediocre service. Let's understand how exactly they can help.
Customer service benchmarking:

Setting the right standards in accordance with the industry benchmark is key in customer service. For example, if a one-year warranty is the norm in the furniture industry, then that's the standard every company should ideally follow. The same applies to other industries, too. 
Customer data strategy:

A

Customer Service Strategist can gain valuable insights into consumer behavior through data collection. For an average person, big data can seem like a nightmare. But consultants can use data interpretation techniques to give you the right recommendations. 
Customer service strategy:

Of course, this is the number one specialty of a Customer Service Strategist. They can create a detailed plan to bring your customer service strategy into the real world. From creating a vision to mapping a customer's journey and training staff, they can guide you at every step.
Customer experience optimization:

Customer experience refers to the perception that your customers have about your business when going through the buyer's journey. A skilled customer service consultant can ensure that a foolproof customer experience strategy is in place. Isn't this the best way to ensure customer retention?
Once again, if you aren't using the right technology as a business owner, you're simply leaving so much money on the table. A Customer Service Software consultant can help you choose and integrate the right software to maximize your customer service efficiency.
Here's how they work their magic:
CRM software:

CRM stands for Customer Relationship Management. CRM software is used to manage interactions with customers and potential customers. This means you can keep in touch with existing customers and attract many more on autopilot.
Simplifying processes:

If you're not used to using digital technologies in business, you may not know how AI can make processes amazingly simple. If you can recall, we discussed chatbots in point #1. Well, there are many other wonders automation can do to make your operations smooth. A Customer Service Software consultant examines your business to recommend the best way to use technology to optimize processes.
Personalization:

Even if your customer service is automated, it should not look automated to the customer. Personalization is key here. Consultants know exactly how to add a personal touch using the best software. This will make customers feel like they're interacting with an actual person and that the business cares about them.
Operations consulting is a very popular area within consulting. Service Operations Specialists, precisely, specialize in streamlining operations related to customer service. Meaning that they can examine your business's infrastructure, recommend changes in the organizational structure, and create procedures and policies keeping industry best practices in mind. Now, let's dig deeper.
Service Operations Specialists can help reduce FTFRs, which stands for First-time Fix Rate. This is really crucial if your business uses a lot of machines and equipment. First-time Fix refers to the time a technician takes to fix an issue without external help. A consultant can analyze this process and figure out a way to reduce the fixing time.
Furthermore, specialists can also conduct a capacity assessment requirement. Oftentimes, businesses overestimate their customer service capacity. A specialist can take a look and find any gaps your business may have when it comes to your service capacity. Moreover, they can also rework and reorganize the customer service team and resources to make your business more customer-centric.
Final Thoughts
Hope that you now know how detailed and specific the role of a customer service consultant can be. Now, you may be wondering: Where can I find such a consultant? Well, here at Consultport, we have got just what you need.
We are an online consulting platform that's on a mission to connect top freelance consultants with businesses. We only choose consultants who have worked with big consulting firms and blue-chip companies. That's right—we truly choose the cream of the crop. So, if you want us to connect you with a freelance customer service consultant, get in touch now.
And if you're already an experienced consultant who has worked with top firms, feel free to reach out, too. We have many exciting and high-paying projects that you'd love to work on.
Share This Story, Choose Your Platform!