China Opens Up - How This Will Impact Global Supply Chains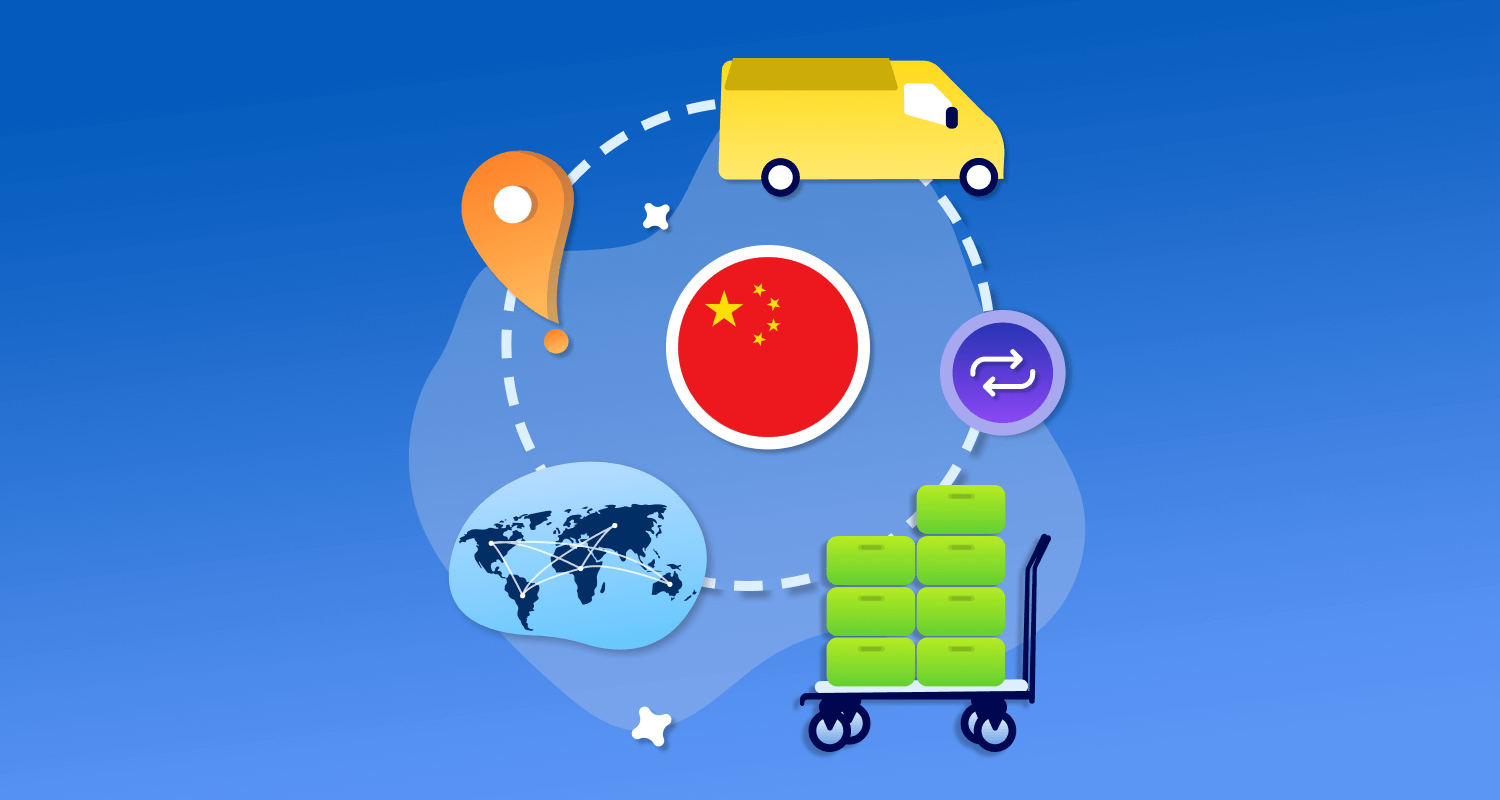 Finally, after three years, China's figurative 'Great Wall' has been removed by the government and tourists are welcome in the country again.
A lot has happened in these three years. On the one hand, all of us saw an event that mankind had never experienced before. We all had to fight back in our own way, and we fought well!
But then, the conflict between Ukraine and Russia started, and this resulted in major political tensions between many countries—even the ones that have nothing to do with this conflict. The fact is, even though China has opened up its borders, it's still involved in political tensions with the West.
So, how will all this impact the global supply chain? Let's dive into it.
1. More Opportunities to Export to China
China may be seen as a country that usually exports goods to the world. For example, you may have seen pictures of factories in China where iPhones are made, right? However, most people don't know that China also imports billions of dollars worth of goods from overseas.
So first, let's take a look at China's top 5 imports for 2022! It's like a giant shopping spree but on a national level. Electrical machinery and equipment are China's number one imports, worth a whopping $644.7 billion, which is 23.7% of total imports according to
World Top Exports
. Looks like China really loves its gadgets.
Now, in second place, we have mineral fuels, including oil, worth $535.3 billion, which is 19.7% of total imports. Third place goes to ores, slag, and ash, which sound a bit like leftovers but makes up 8.3% of China's imports at a value of $224.7 billion. The number four highest quantity of imports was machinery, including computers, worth $202.1 billion (7.4%). Looks like China knows how to keep up with the latest technology trends! And finally, gems and precious metals take the fifth spot, with imports worth $103.7 billion (3.8%).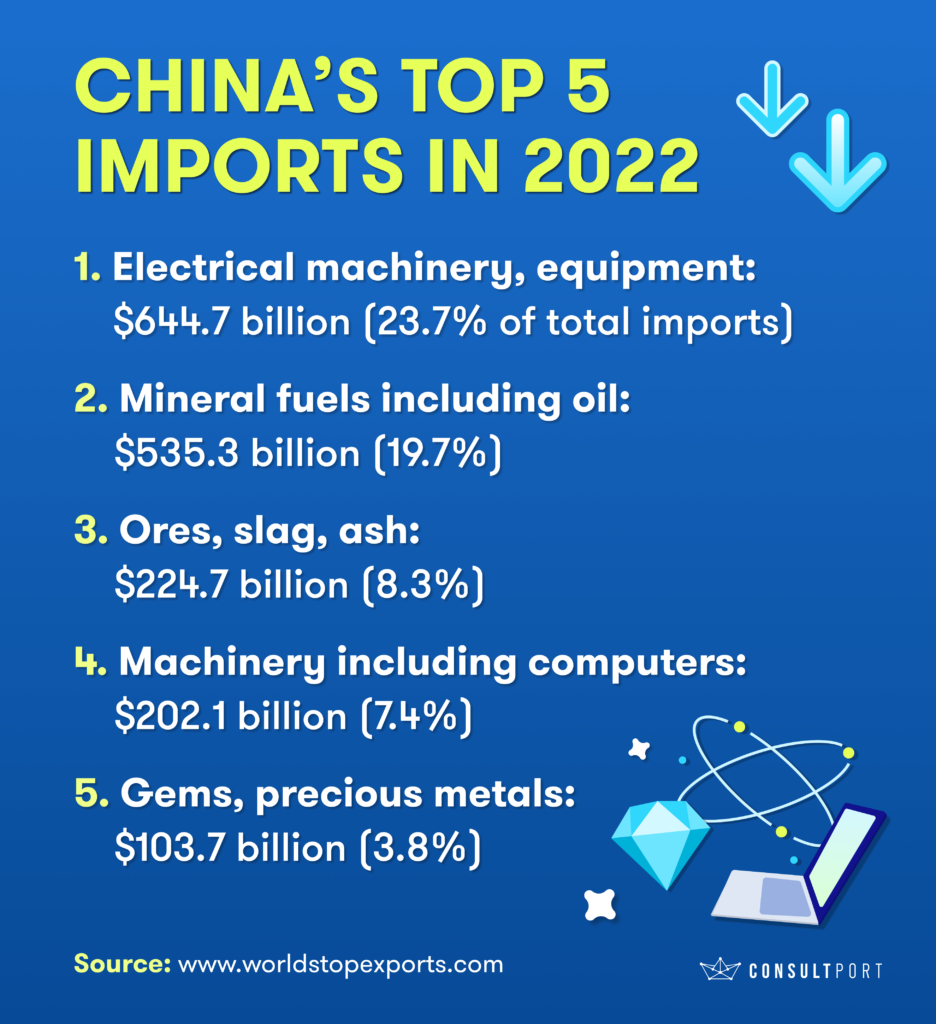 With China's borders opening, exporters from overseas can have more opportunities to travel to China and form relationships with local business owners and industrialists who can assist their expansion into the Chinese market. Attending trade shows and industry events in China is an amazing opportunity for foreign exporters to connect with the vibrant business community in this exciting market.
KEY TAKEAWAYS
China imports a significant amount of goods from overseas, including electrical machinery, mineral fuels, ores, machinery, and precious metals.
The resumption of international travel to China can be a massive help to small businesses in the tourism and hospitality sector, and China can expect inbound tourism revenue to increase significantly.
The reopening of China's borders is expected to increase the demand for global shipping and logistics, and innovative solutions are expected to emerge to meet the demand.
The reopening of China's borders will enable them to import raw materials and components from other parts of the world, increasing their manufacturing and export capabilities.
Rising political tensions between the West and China may lead to investors in the West hesitating to invest in China.
2. Massive Help for Small Businesses in China
The resumption of international travel can be a massive help to small businesses in China. This is because, after years, they will have access to a new consumer base. In particular, small businesses in the tourism and hospitality sector can expect a significant boost in business as international tourists return to the country. This is a no-brainer because, well, all those tourists will need a place to stay and food to eat, right?
According to
Statista
, the number of international tourists who visited China was always more than 100 million since 2011. But, in 2020, this dropped to 27.47 million, and in 2021, it was 31.98 million. This is almost a 70% drop. Again, according to another research by
Statista
, 145 million inbound tourists generated nearly 36 billion U.S. dollars in revenue in 2019. In 2021, this dropped to
$11.3 billion
.
Now that borders are open, China can expect the inbound tourism revenue to shoot up again. Potentially back to pre-pandemic levels, which is around $36 billion. It's likely that a huge chunk of this revenue will go to tourism-related businesses as well as small businesses. Well, despite the pandemic trying to rain on China's tourism parade, it's good to know that the industry is set for an all-new revival. From the Great Wall to the bustling big cities, China has something for everyone.
3. Global Shipping and Logistics Will Catch Pace Again
Well, they say everything's bigger in Texas, but it looks like China has them beaten in terms of exports. In fact, China's exports were so massive in 2020 that they contributed a whopping
39.18%
to the country's GDP. It's safe to say that China is definitely holding its own on the world stage when it comes to producing and shipping goods. Talking about shipping, according to the
World Shipping Council
, China is the largest container-shipping nation in the world, with its Shanghai port shipping 47.03 Million TEU of goods—the highest globally.
As China's economy continues to rebound and borders reopen, it is expected that the demand for global shipping and logistics is likely to increase. The
World Economic Forum
reported that shipping companies were struggling to meet the demand due to a shortage of containers, capacity, and equipment. They also stated that 90% of goods in the whole world are transported by sea. China's closed borders as well as internal lockdowns did have an impact on global shipping. Don't worry though, this is where creativity comes into play! We can expect new and innovative solutions to emerging as the industry adapts to meet the demand.
4. Impact on Global Supply Chains
Yes, China is the world's number one exporter. But don't forget that it's also the world's second-largest importer after the US. As China is one of the world's largest manufacturers, the reopening of its borders will enable them to import raw materials and components from other parts of the world. According to the
United Nations Conference
on Trade and Development, China accounted for 28% of global manufacturing output in 2018. This shows the significance of China's role in the global manufacturing sector and how the reopening of its borders will affect the industry. The more they can import, the more they can manufacture and export. Sounds like a win-win for everyone.
However, there's another topic that needs to be discussed when it comes to global supply chains. Even though the pandemic problems are fading slowly, political problems seem to be on the rise. Due to rising political tensions between the West and China, many investors in the West are hesitant about their putting their money in China. Many US-based businesses are also considering
pulling out of China
due to this global political instability. On the one hand, this may be bad news for China, on the other hand, this may be good news for some countries. India, for example, has a large, young workforce that can be of major help to the global supply chain.
In 2020,
India's top 3 export
products were mineral fuels (valued at $61.2 billion), jewelry (12.4%, $41.2 billion), and automobiles ($14.5 billion). India also exported billions of dollars worth of pharmaceuticals, cereals, textiles, iron and steel, and electronics. This shows that India is also a major player in the global supply chain and may be of interest to Western democracies as India follows a democratic form of governance as well.
How Can a Supply Chain Consultant Help
Are you tired of supply chain headaches and inefficiencies? Then don't worry, because there are experts available who can make your job a heck of a lot easier. They are called supply chain consultants.
Here at Consultport, we have thousands (yes, thousands) of pre-vetted, highly qualified consultants in our talent pool. All of them have experience working in top consulting firms or blue-chip companies. This means you'll only get the best of the best.
Our team of experts can help your business navigate the complex world of supply chain management with ease. From developing a winning supply chain strategy to optimizing your operations, we have the skills and expertise to help your business succeed. Here's how our consultants can help:
So why settle for a mediocre supply chain when you can have a top-performing one? You don't have to get into complicated contracts with large firms. Our freelance consultants can deliver the same level of expertise in a way simpler format.
Hiring a freelance consultant from Consultport is the easiest task ever.
Tell us your requirements
Choose your favorite consultant out of our talent pool of thousands
Start the project
Do you see how simple it is? If this sounds interesting to you, contact Consultport today, and let us find you a qualified and experienced supply chain consultant.
Share This Story, Choose Your Platform!