5 Ways to Create an Employer Brand Like Google and Apple
Published:
February 15, 2023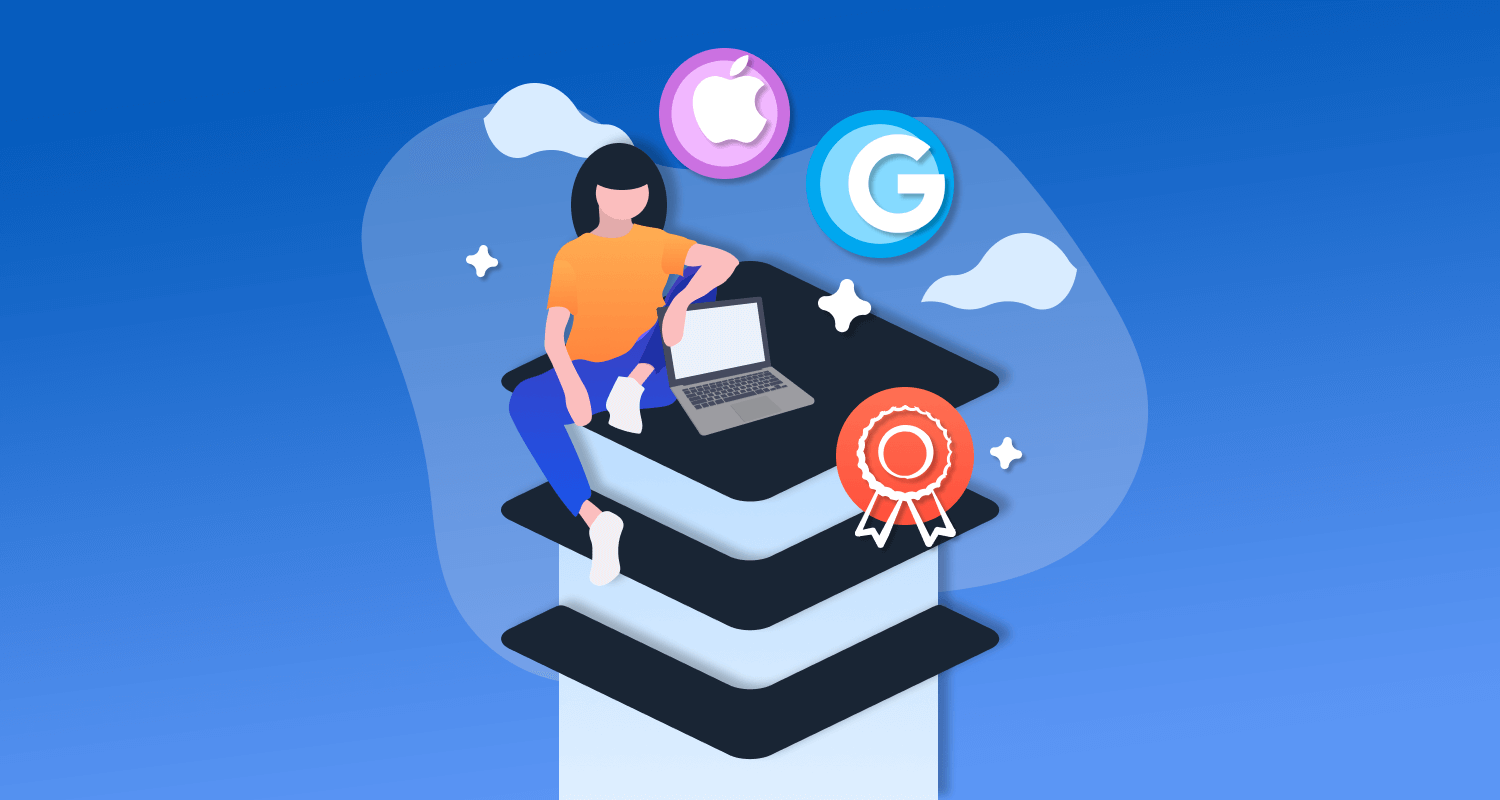 The fact is, many people are not fond of their jobs. They dislike the company they work for. They don't get along with their manager. They don't like their work hours. They are sick of the long commute. And the list can go on.
Then, there are companies like Google and Apple which have thousands of positive reviews on Glassdoor and are rated more than 4 stars. But why? What makes these companies so different? Well, the answer may lie in their branding.
In this article, we will discuss why big tech companies in America like Google and Apple are loved by so many employees.
Why You Should Develop a Positive Employer Brand
As usual, it makes sense to start with the 'why'. Why is employer branding important? And what will happen if you neglect it? Let's find out.
KEY TAKEAWAYS
A positive employer brand helps businesses attract and retain top talent, boost morale, and increase productivity.
Offering employees flexible working arrangements may help you position your company as one that is empathetic to its staff.
Google and Apple offer top-notch healthcare benefits to employees, including insurance, onsite doctors, and wellness centers. Offering healthcare benefits is a surefire way to create a positive brand image.
Including pets on the team can help you position your company as a progressive and upbeat workplace.
Hiring Brand Strategy consultants can be really helpful if you're serious about building an employer brand.
In
2016
, Glassdoor revealed that 70% of job applicants look at a company's reviews before applying. Apparently, this isn't a new trend. It started years ago and is still continuing. A
recent survey
showed that now 86% of employees look for a company's online reviews before applying. So, just know that top talent only works with top companies. And if you want to bring them on board, you have to put effort into your employer branding.
2. Retain your best people
"I like working for a toxic company," said no employee ever. To retain your most hardworking employees, your brand should demonstrate positivity and upbeat energy. Not many people want to be associated with a company that has a negative brand image.
For example, Harvey Weinstein's independent film studio The Weinstein Company is rated one of the
top 20 most hated
companies (for obvious reasons). Who would want to continue working with such a company after so much negative publicity?
What do companies like Google, Apple, and Facebook have in common? Well, the morale in these companies is so high, that people boast about working for them. The brand image of some of these tech companies is insanely positive, and people compete really hard to even get an internship. This is what you should strive for, too.
4. Attract more customers
Yes! If you treat your employees well, you'll have a great overall brand image. This will also help your business get more customers. Times are changing, are more and more consumers want to do business with sustainable companies only. A big part of sustainability is ethical sourcing and how workers are treated. Recently, we published an article
Sustainability 2023: 5 Corporate Sustainability Trends That Are Growing
. Feel free to have a read if you want to learn how sustainability and employer branding go hand in hand.
5 Ways to Create a Successful Employer Brand
Now that you understand why a positive employer brand is crucial, let's dive into the steps you can take to achieve it.
1. Give employees freedom and flexibility
You see, there are two types of companies: one that actually gives flexibility to employees and the other one that writes 'flexible hours' in the job description but doesn't really offer it. At companies like Google, employees truly have flexibility. In a
2021 blog
, the CEO of Google Sundar Pichai mentioned that they'll move to a hybrid work week. Under this arrangement, an employee will only need to be at the office 3 days a week. The other two may be spent anywhere they like—as long as the work gets done. How convenient!
There are many surveys out there with one common conclusion: the modern workforce wants flexibility. If you're truly determined to build a positive employer brand, then flexible working arrangements must be at the tip of your priorities. There's no sense in forcing adults to sit in the office for 8 hours a day like school students. It's demeaning and unnecessary. Have faith in your staff's ability to work from anywhere they want, and they will be productive.
2. Focus on your team's health and wellness
According to a survey by stress.org,
40%
of workers considered their jobs to be very stressful. Emphasis on the word 'very'—it's 'very' stressful they said. That is almost half the workforce driving themselves into mental and physical illness. Now, ask yourself: Is this what we want the world to look like?
At
Apple
, employees don't just get the much-needed health insurance (that covers dental as well), but they also get access to doctors. Apple employees can talk to medical doctors and/or mental health counselors in person or through video calls.
Google
is no different than Apple when it comes to employee well-being. Along with insurance that includes dental and vision treatments, Google also offers wellness centers on-site.
Now, it's understandable that not every business is in a position to do what Apple and Google do. However, at least we can learn the key lesson here: your employees are humans, not machines. And humans may get sick. But when they do, they must be looked after. Doing this will not only boost your employer brand, but it will also keep your employees happy and productive.
3. Start a PR campaign
If you're taking your employer branding seriously, then you must consider starting a well-thought-out PR campaign. Well, with the advent of platforms like Glassdoor and Google Business Profile, not all publicity is in your hands. It's because these platforms enable ex-employees to truly speak their minds. So, if you treat them well, they'll write about it. And if you don't treat them well, they'll write about that as well. That's why the first step to a successful employer PR campaign is to act fairly with employees.
Apart from this, you could take inspiration from big tech giants. For example, there are many LinkedIn posts and YouTube videos titled "Working at Apple" or "Working at Google". Talking about LinkedIn, Google has started a new hashtag to welcome newbies. It's called #Noogler. Meaning? A new employee at Google. So innovative, isn't it?
A PR campaign shouldn't cost you an arm and a leg in this day and age. Thanks to social media platforms, especially LinkedIn, which can be a very powerful PR machine. If you want to crank it up a notch, you could also promote your employer brand in local newspapers, magazines, or whichever medium your target audience prefers.
4. Include some pets on the team
Who doesn't like those pictures of cute dogs and cats taking a stroll at the office? Pets have the ability to prevent us from taking things so seriously. According to many studies, pets can have a positive effect on the workplace. For example, a
report
by the University of South California mentions that pets at the office can reduce stress and boost productivity.
Once again, Google never ceases to amaze us with its employer branding. Do you know what dog-owning Google employees are called? Dooglers. That being said, there are some other factors that you may want to consider. If certain employees are allergic to pets or have conditions like 'zoophobia', which is fear of animals, you may want to rethink your pet strategy.
But in most cases, employees should be fine with pets. And if they are, why not include pets on the team? After all, they've been with us for centuries. Humans and pets have an unbreakable symbiotic relationship that is time-tested. So you don't always have to leave your pup at home. Feel free to show them your office as it might also help you create a modern and progressive employee brand.
5. Hire a consultant to help you improve your employer branding
Building an employer brand yourself can be a daunting task. But don't worry, because there are experts out there who can help you in many ways. For example, a
Company Culture consultant
can analyze where your culture currently stands. They interview employees, conduct surveys, and organize focus groups to determine your business's present state first. Then, they can offer recommendations to create the best possible company culture, which can ultimately improve your employer brand.
Furthermore, you could also seek assistance from
Brand Strategy consultants
. These consultants can completely turn around your employer brand into something brilliant. With rebranding strategies, they can help change your brand's perception in customers' minds. Remember we talked about PR campaigns earlier? Well, these are the people you should talk to if you're keen on a new publicity campaign. Besides this, Brand Strategy consultants can help you evolve your brand into one that is more consumer-centric. This can ensure consumer stickiness, loyalty, and repeat purchases. And if consumers validate your brand, then employees will also follow.
If you're looking for top freelance consultants who have worked with big consulting firms, look no further. Here at Consultport, we have over 10,000 highly experienced consultants in our talent pool. Just reach out to us with your needs and we'd be happy to help.
Share This Story, Choose Your Platform!