Case Study |
Optimizing Energy Efficiency with AI-powered Operations
Inefficient Optimization Process
The client, an industry-leading power producer, had undertaken a strategic sustainability initiative aimed at reducing the environmental impact of their operations. As part of the initiative, the client sought to optimize the thermal efficiency of their power plants to reduce fuel consumption and lower emissions. 
At the client's power plants, the optimization process was done manually. To achieve optimal performance, human operators must continuously monitor and adjust numerous variables, which is an erroneous and burdensome task.
"Historically, manual interventions would have been enough, but to achieve ambitious goals we have on sustainability, we needed a more sophisticated and adaptive approach." — Head of Operations
Role of Consultport

Consultport proposed 5 strong candidates within 72 hours. The client interviewed 4 candidates and selected two ex-Capgemini consultants from the company's AI-consulting arm. The consultant team started working with the client 6 days after the initial request.
Co-developing an AI Model
The two consultants joined forces with the client to create an advanced AI model. 
The client provided essential input on how the power plants work, along with crucial data collected by on-site sensors, such as temperature changes, pressure variations, and energy usage patterns. 
With the client insights, the consultants started developing the AI model. Through iterative training and refinement, the AI model analyzed complex relationships between external factors and human decisions, eventually learning to make predictions and suggestions.
AI-powered Recommendation Engine
Based on the AI model, the consultants developed a prototype recommendation engine capable of generating suggestions every hour, enabling human operators to adjust relevant parameters in a timely manner.
The recommendation engine was first deployed in a pilot program in which the system was used to optimize operations of several power plants.
Organizational Adoption after Pilot Success
The pilot program was a huge success. After three months of deployment, the power plants that took part in the program saw an average 4% increase in thermal efficiency. 
With the success of the pilot program, the recommendation engine was then widely deployed across the client's power plants, covering various types of power-generation units and optimizing different aspects of the client's operations. 
Overall, the client achieved an average 2% efficiency increase across its power plants in the first year and fulfilled 3% of their remaining carbon reduction commitment for 2030.
Increased
Energy Efficiency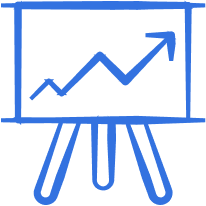 The AI model was a game-changer for us, leveraging existing knowledge while uncovering new insights that may be ignored by even our most experienced analysts.
Head of Operations of the Power Producer
Check out our blog articles
"*" indicates required fields